Buck Owens
Born near the Oklahoma border in Sherman, Texas, on August 12, 1929. As a boy, Buck worked the fields on his sharecropping father's farm and resolved that "when I get big, I'm not going to go to bed hungry. I'm not going to wear hand-me-down clothes". The Owens family left Texas for the promise of California in 1937, but when their trailer hitch broke, they settled in Mesa, Arizona, a suburb of Phoenix.
Music became a central part of Buck's life after his parents gave him a mandolin for Christmas. At sixteen, Owens landed a fifteen-minute program on Mesa radio station KTYL, performing in the duo Britt & Buck. Owens supplemented his Blackboard income with session work in Hollywood. His guitar playing caught the attention of Capitol Records A&R man Ken Nelson, who used him to add a raw edge to 1950s recordings by Tommy Collins, Wanda Jackson, Wynn Stewart, Gene Vincent, and others.
Ken Nelson signed Owens to Capitol Records in 1957. Buck and his songwriting partner Harlan Howard formed their own publishing company, Blue Book Music. In 1958, Owens became part owner of radio station KAYE in the Tacoma, Washington, area, where he learned the fundamentals of the business by working as a disc jockey and selling ad time. While hosting the Bar-K Ranch TV show on a Tacoma station, Owens began working with sixteen-year-old fiddle player Donald Eugene Ulrich. Don Rich, as he became known, would be Buck's closest musical collaborator.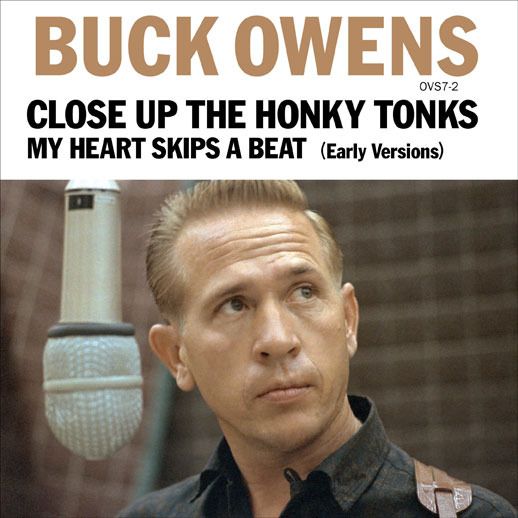 In 1959 Owens scored his first Top Five hit, "Under Your Spell Again". He continued his success with hits such as "Above and Beyond" (1960), "Foolin' Around" (1961), and "Loose Talk" (1961), a duet with Rose Maddox, formerly of Maddox Brothers & Rose.
As Buck Owens's airplay and record sales increased, he needed his own group to do justice to his material and give his audiences their money's worth. Merle Haggard suggested the name Buckaroos for Owens's band while he played bass with them briefly in 1962. The group considered by many to be the classic Buckaroos lineup coalesced in 1964, with steel player Tom Brumley, drummer Willie Cantu, bassist Doyle Holly, and Don Rich on lead guitar, fiddle, and harmony vocals. Unlike Nashville producers, who insisted on using session musicians, Ken Nelson preferred that his artists record with their own bands to maintain their individuality. Owens began recording with the Buckaroos in 1963.
Buck Owens and the Buckaroos stormed the charts with a fresh, original sound. Buck notched his first #1 hit in 1963 with "Act Naturally". It featured the up-tempo freight-train beat that became an Owens trademark, along with Don Rich's twanging Telecaster guitar licks and distinctive high vocal harmony. Owens had discovered a successful formula. The combination of catchy, easy-to-remember songs with streamlined arrangements and the crisp musicianship of the Buckaroos yielded a stream of fifteen #1 hits between 1963 and 1967, including "Love's Gonna Live Here", "My Heart Skips a Beat", and "I've Got a Tiger by the Tail".
He was elected to the Country Music Hall of Fame in 1996. That year, he opened Buck Owens' Crystal Palace, a 500-seat dinner club and museum in Bakersfield, where he performed weekly with the Buckaroos.
On Friday, March 24, 2006, Owens performed for ninety minutes at the Crystal Palace, determined to give his all to his fans. Early the next morning he died from heart failure at age seventy-six.
Buck Owens left behind a media empire worth millions of dollars and a priceless musical legacy that spans generations and genres. In his own words, Owens wanted "just [to] be remembered as a guy that came along and did his music, and did his best and showed up on time, clean and ready to do the job, wrote a few songs, and had a hell of a time".
Thanks to The Country Music Hall Of Fame.
MORE YOU MIGHT LIKE
TEST YOUR MUSICAL KNOWLEDGE