Kitty Wells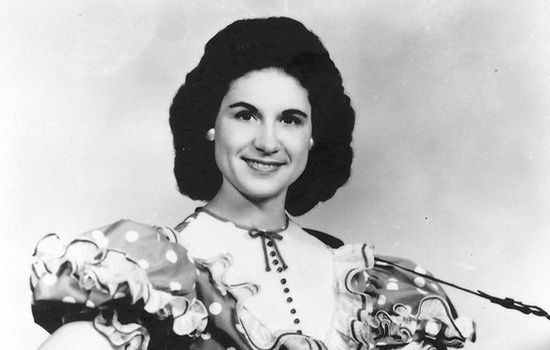 Kitty Wells was born in Nashville, Tennessee on August 30, 1919. Her father, Charles, and his brother were musicians and her mother, Myrtle, was a gospel singer. As a teenager, she sang with her sisters, who performed under the name the Deason Sisters on a local radio station beginning in 1936.
At the age of 18 she married Johnnie Wright, a cabinet-maker who aspired to country-music stardom (which he'd eventually achieve as half of the duo Johnnie & Jack). Wells sang with Wright and his sister Louise Wright; the three toured as Johnnie Right and the Harmony Girls. Soon Wright met Jack Anglin, who married Louise and became part of the band, which became known first as the Tennessee Hillbillies and then the Tennessee Mountain Boys.
Kitty was about to quit show biz and stay at home with her three children, but God had another plan. Paul Cohen, then A&R for Decca Records, was looking for a female singer to record the answer to Hank Thompson's number one hit "The Wild Side Of Life". He asked Johnny if Kitty would be interesed in recording "It Wasn't God Who Made Honky Tonk Angels", Kitty said she would do it so she could make the money off of the recording session. Even though the Grand Ole Opry banned the song and she was not allowed to perform it on the air at the time, the song became a million seller.
The rest is history, thus beginning the sensational career of Miss Kitty Wells. Her duet with Red Foley,"One By One" remained on the charts for almost a year. Kitty signed an unheard of "lifetime" contract with Decca Records in 1959. She remained on Decca until 1975 when she released one album on Capricorn Records. On this session, Kitty was backed by some members of the infamous "Allman Brothers Band". In 1979, Johnny and Kitty formed their own label, Ruboca Records, (named after there three children, Ruby, Bobby and Carol Sue). Kitty had her last solo Top Ten Single on Ruboca at age 60 with, "Thank You For The Roses".
Family has always been an important part of the Wells / Wright team. They have always included their children as a part of their tour from the time they were able to walk on stage. After Jack Anglin's death in March of 1963, Johnny decided to make the show a"family" show and in 1965, brought Bobby back from California to join the show permanently. In the late sixties and early seventies, Kitty and Johnny had their own Family TV Show which featured Kitty, Johnny, son Bobby, daughters Ruby and Sue, and longtime friend Bill Phillips.
They have also recorded not only on the family albums, but have had careers in their own right. Ruby not only recorded solo on RCA and RIC Records, but also as a part of the Nita (Nita Carter), Rita (Rita Robbins) and Ruby trio. She and sister Sue recorded for the Cadence Record label as the Wright Sisters. Bobby not only has had a successful recording career with Decca, ABC and United Artist Records, but also was a professional actor. He played the part of Willie, the Tennessee moonshiner, on the popular TV series, "McHale's Navy". Kitty and Johnny now have 8 grandchildren and 10 great-grandchildren.
Kitty and Johnny opened the Family Country Junction Museum and Studio in 1983 in their hometown of Madison. They are closing the museum as of October 2000, but hope you will stay in touch via email. Their grandson, John Sturdivant, Jr. will keep the Junction Recording Studio at its present location.
Thanks to Kitty Wells.com.
MORE YOU MIGHT LIKE
TEST YOUR MUSICAL KNOWLEDGE