Porter Wagoner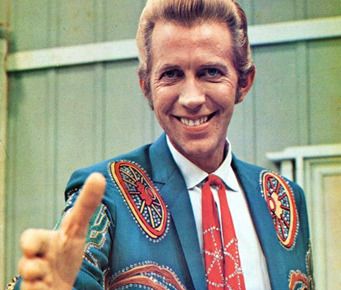 Mr. Wagoner's life had elements of an old-fashioned country song. He was born on Aug. 12, 1927, on a farm where mules still pulled the plow, near West Plains, Mo., in the Ozark mountains. He sold the pelts of rabbits he trapped to scrape together the $8 he needed to buy his first guitar, a National, from Montgomery Ward. He spent hours pretending that the stump of a felled oak tree was the Opry stage and that he was introducing country stars. He quit school in the seventh grade.
After bad times forced the family to auction off their farm, they moved to West Plains, where a local butcher hired Mr. Wagoner. When the butcher heard him play the guitar, he put him on the radio to sing advertisements. In 1951 Mr. Wagoner moved to a station in Springfield, Mo., and signed a record contract the next year with Steve Sholes, the same R.C.A. producer who signed Elvis Presley three years later.
In 1953, Mr. Wagoner spent $350 to buy his first Nudie suit, as the extravagant rhinestone-studded creations by Nudie Cohn were called. Mr. Wagoner's was a peach-colored outfit with wagon wheels on it. He ultimately owned 50 of them, paying $8,000 to $12,000 each, and epitomized the style country fans call "hillbilly deluxe".
Like many of his contemporaries in country music, Wagoner toured and performed outdoors for fans at American Legion houses in rural towns. Fans sat on wooden benches facing what was often a makeshift stage. Wagoner would mingle with the audience during performance breaks and usually remembered the names of the towns he visited.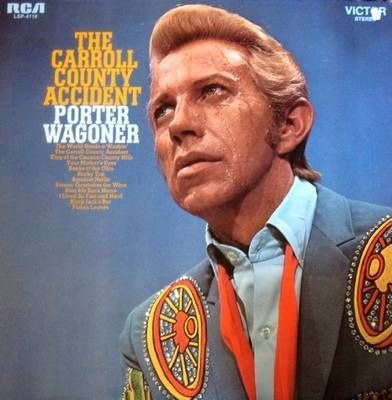 Wagoner's 81 charted records include "A Satisfied Mind" (#1, 1955), "Misery Loves Company", "Green, Green Grass of Home", "The Cold Hard Facts of Life" and "The Carroll County Accident".
Among his hit duets with Dolly Parton were a cover of Tom Paxton's "The Last Thing on My Mind", "We'll Get Ahead Someday", "Just Someone I Used to Know", "Better Move it on Home", "The Right Combination", "Please Don't Stop Loving Me" and "Making Plans". He also won three Grammy Awards for gospel recordings.
His syndicated television program, The Porter Wagoner Show, aired from 1960 to 1981, with 686 30-minute episodes taped. The shows usually featured opening performances by Wagoner with performances by Norma Jean, or later Parton, and comedic interludes by Rhodes. During Parton's tenure, she and Wagoner usually sang a duet (Wagoner did not perform any duets with Norma Jean).
Until his illness and death, Wagoner appeared regularly on the Grand Ole Opry and toured actively. He died from lung cancer in Nashville on October 28, 2007 with his family and Dolly Parton at his side. Wagoner's funeral was held November 1, 2007 at the Grand Ole Opry House. He is buried at Woodlawn Memorial Park Cemetery in Nashville.
MORE YOU MIGHT LIKE
TEST YOUR MUSICAL KNOWLEDGE